A special division for every person with the will to learn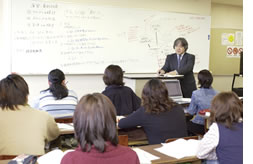 The School of Correspondence Education provides a broad range of opportunities for higher education, with programs suited to individual styles and goals. Programs are available for junior college and university study, as well as study in the graduate school, a first in Japan. Application is open to anyone eligible to enter university. Admission to the Faculty of Humanities and Seitoku University Junior College is determined on the basis of application documents alone, and there is no age restriction. Admission to the graduate school, however, requires an entrance exam. Tuition for correspondence education is lower, and company employees or family members can pursue studies for training or the pleasure of learning regardless of age or place of residence. Students acquire the same licenses and qualifications available to commuting students.



A flexible transfer system to help students achieve their goals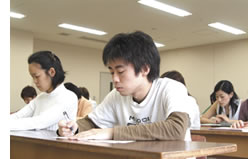 Our transfer system allows students the flexibility to meet their goals. Students who have already graduated from university, junior college or vocational school, for example, can transfer as third-year students. Students who wish to acquire more specialized knowledge can choose to focus on a specific subject matter in depth. There is also a special program to acquire a teacher's license. Our proven education system provides solid support for transfer studies.

Seitoku University Graduate School
Department of Child Studies
Major in Child Studies (Master's and Doctor's Courses)


This course was designed for teachers unable to commute to campus due to geographic or time restrictions, or for professionals in the child-care field. It is the first correspondence education program of its type in Japan. The program focuses on the education, development and care of young children, preparing graduates with adaptability and specialized knowledge they can utilize in the workplace.





Seitoku University




Faculty of Child Studies
Department of Child Studies
Preschool Education Course /Child-Care Course / Child Education Course
Following the highly specialized and practical "Seitoku for Child Education

" program, this course provides students with the latest theories and techniques regarding children and education, enabling them to be highly adaptable in the workplace.

Faculty of Psychology and Welfare
Department of Psychology
Clinical Psychology Course / Family Psychology Course / Social Psychology Course
Students acquire the understanding of the foundations and theory of psychology that they will need in today's era of psychological inquiry. Instructors from a wide variety of fields, including hospitals, family courts and child consultation centers, are assigned to assist students' wide range of study needs.

Department of Social Welfare
Social Welfare Course / Mental Health and Welfare Course / Yogo Teacher Course
The foundation of this course is training for qualifications as a Certified Social Worker, Certified Psychiatric Social Worker, or Yogo Teacher (Health Teacher). The curriculum provides students with practical, wide-ranging knowledge and advanced skills that allow them to play an active role in the welfare community.

Faculty of Literature
Department of Literature
English Language and Literature Course / Japanese Language and Literature Course / Japanese History Course / Japanese Calligraphy Course / Career Communication Course / Library Science Course
In addition to a variety of licenses and qualifications, students can acquire specialized knowledge and techniques according to their needs. Students can select from six courses in accordance with their individual objectives. For example, some students may wish to focus on an in-depth a close study of history, while others may be focused on obtaining a junior-high-school or high-school teacher's license.
Seitoku University Junior College
Department of Early Childhood Care and Education
The Department of Early Childhood Care and Education has a long tradition, and has graduated many successful professionals in the world of early childhood education. Drawing on this experience, the department provides rigorous, careful instruction in both theory and techniques that aims to produce professionals with a personal appeal.